FOR THE MIND… EUREKA!!! A HEALTH BUZZ?
Unique to the industry and the first of its kind, Dr. Boochart has put 'healthy and hard' together in a delicious refreshing drink for the health conscious individual.
For those who enjoy alcoholic beverages but want to protect themselves from the ravenous effects of alcohol, The Elixir of Life starts helping the body repair while the libation is enjoyed! 
FOR THE BODY ~ REDUCE THE RISK OF HANGOVERS AND NEGATIVE EFFECTS OF ALCOHOL
The Elixir of Life  is a groundbreaking formula that our Steampunk Scientists have concocted and added to our healthy & hard kombucha.
This powerhouse blend of vitamins, herbs, adaptogens and minerals combines with our hard kombucha base to create a tasty, hard beverage which helps to protect and support the organs that traditional alcoholic drinks negatively effect.
FOR THE SPIRITS ~ Keep it 'HEALTHY AND HARD'
We all enjoy a good alcohol buzz…but we also know…that a buzz comes with a cost. Long term effects of drinking are linked to catastrophic diseases such as; liver disease, heart disease, cancer, brain diseases, autoimmune diseases and much more.
So, 'IF YOU'RE GOING TO DRINK' you might as well do what you can to stay strong while you get your…
'HEALTH BUZZ ON'!

Provides liver support
You should know excess alcohol consumption is linked with liver diseases such as cirrhosis, fatty liver, alcoholic hepatitis, liver failure and death. (yikes!)
Although there is no substitute for moderation, our product contains the 'Elixir of Life' which supports liver health and enhances liver detoxification processes.
Protects against cell damage
According to medical studies, alcohol contributes to free radical cell damage which is linked to cancer of the mouth, throat, esophagus, liver, breast and colon. (bummer!)
Loaded with antioxidants such a glutathione, NAC, zinc, vitamin C and Japanese Raisin Tree, our product combats free radical damage associated with alcohol consumption.
Provides Heart support
Traditional alcoholic beverages are linked with cardiovascular problems such as: High blood pressure, heart disease, heart attack, stroke, liver disease, and digestive problems. (crap!)
Our product provides vitamins such as niacin and vitamin E, as well as herbs to counter the negative affect of alcohol on the heart, lungs, pulmonary tree, arteries and veins.
Blood sugar balance
Typical alcoholic beverages such as beer, wine, seltzers and hard alcohol cause a spike in blood sugar which causes sharp rebound and drop in blood sugar affecting sleep quality, mood and energy. (oh no!)
Our product contains vitamins such as B1, B6 and B12 as well as herbs such as Korean pear which support and balance blood sugar spikes.
Provides Brain support
Wow! Did you know alcohol is linked with brain disorders such as dementia, senility, and Alzheimer disease?
Alcohol is linked with learning and memory problems, poor recall, poor cognition and focus problems. It is also linked with depression, anxiety as well as social problems, including lost productivity, family problems, and unemployment.
Alcohol is also addictive, creating physical dependence and alcoholism. (dang!)
Immune System Fortification
Ok…it is true…alcohol is known to weaken and suppress the immune system, leaving it vulnerable to infection and sickness. A suppressed immune system cannot do its job when an infection occurs, leading to an increased chance of getting sick. (gadzooks!)
To support a strong immune system, Dr. Boochart's product is loaded with vitamins such as vitamin c and zinc as well as herbs and antioxidants that are know to fortify the immune system and keep it strong and healthy.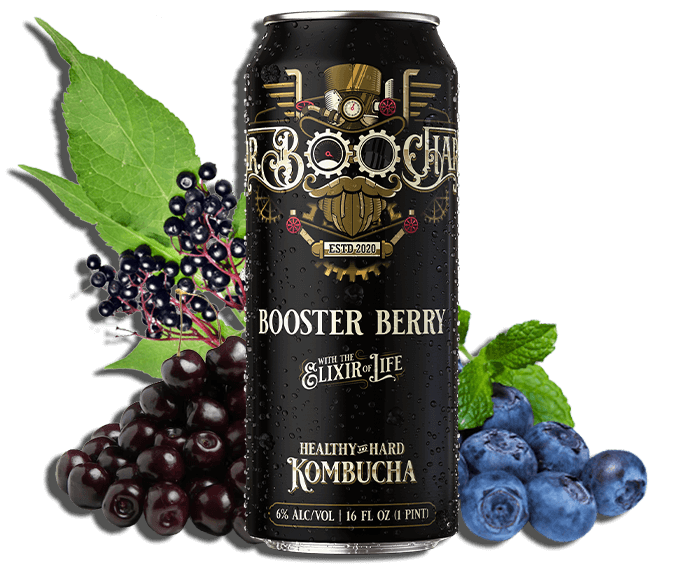 What Makes Our Booch Different?
Our proprietary blend of herbs, roots, vitamins, minerals and homeopathics work together to fortify and protect the major organs from the deleterious effects of alcohol. You can enjoy an alcoholic hard kombucha and have minimal negative side effects and drastically reduce hangover symptoms.

Our Blends

FIND IT NEAR YOU →